I am very often asked why I write the stories I do, or where I get my inspiration from. I have been writing since high school, but really grew earnest about it in the first year of my law enforcement career, and one particular night set it all off.
I had about 3 months of service in the Force, when I was called to check an abandoned house for squatters in a distant corner of my policing district. I went out there, by myself, thinking nothing of it, as it was a type of call I'd responded to a dozen times before. I found the house, and went in with my flashlight to make sure no one was inside. It was a musty shambles, filled with garbage and broken furniture, as well as something I didn't expect, and had never felt before or since.
I felt a presence, something dark and heavy, and whatever it was made it clear that I was not welcome. I found no sign of anyone squatting there, and could understand why, if they had felt the same thing I did. I got out of that house as quickly as I could, and thought about it for days afterward.
I wondered, endlessly, what could have happened in that house to make it feel so black. That wonder turned into the idea for The Watch.
I write to answer questions, to go on adventures, to take my readers with me. I write to satisfy the wonder that lives at my core, and hopefully a few people are interested in reading the stories and exploring that wonder with me.
---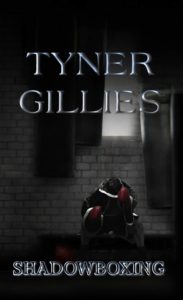 Jake Ross has dreams of breaking back into a boxing career. One night, after a promising match, he is drawn into an unseen world where the Fates transform him, unwillingly, into a tool for Their works, guided by a mysterious man named Mac.Vanessa Rain, a stripper at a nearby club, has been running most of her life, hiding and making do so as to protect the only person she loves–her son–from forces that threaten to steal him away from her. Gareth is a pawn but is much more than his mother ever dreamed. It is he that dark forces conspire to capture and turn towards their destructive aspirations.The Fates lead Jake and Vanessa into a chance encounter with one purpose–to save Gareth. But are they too late?
Available at Amazon, and other online retailers.
---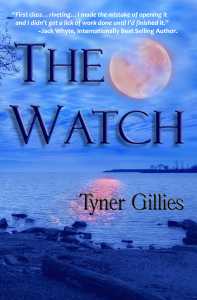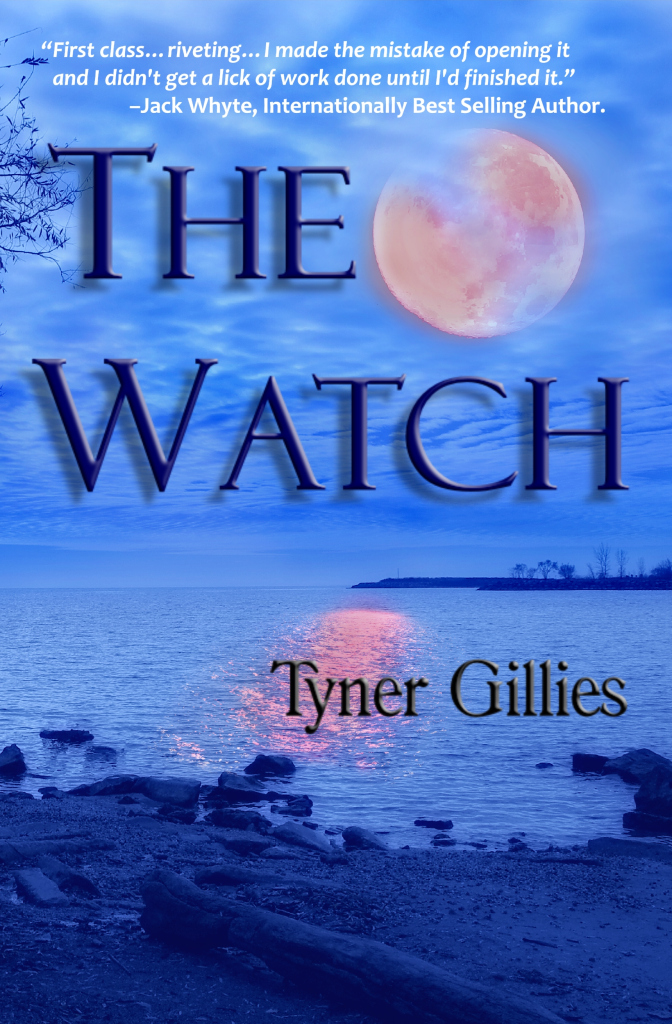 Find The Watch at various online retailers through Dark Dragon Publishing
"First class…riveting…I made the mistake of opening it and I didn't get a lick of work done until I'd finished it."
–Jack Whyte, International Best Selling Author.
"…[a] thrilling story…a page-turner right to the end. Tyner Gillies presents his debut novel with a fresh voice—an exciting new Canadian talent!" – kc dyer, Author and Director of the Surrey International Writers' Conference
Will the Guardian Awake before the Demon Rises?
Resolution Cove was a small, sleepy tourist town, or so Constable Quinn Sullivan thought when he transferred there after spending five years in a crime infested city. It was to be the perfect place to consider his future career; low crime, nice people, easy shifts, and finding the girl of his dreams. What more could he ask for?
Something is happening in Resolution Cove.
Violent crime, committed by sane, reasonable people is on the rise. There is no discernible connection between the crimes except for insane ramblings of 'eyes in the dark.'
In a house, in the south end of the city, stirs an ancient darkness that threatens to destroy the tranquility of Resolution Cove. Feeding upon its victims' terror, it must eliminate the emerging Guardian or else be banished into the netherworld to await a new time and place to strike.
Autumn Donnelly knows what is plaguing the city. Her family has helped previous Guardians destroy the beast in times past. Now she must convince Quinn of the truth before evil blankets Resolution Cove, destroying the sleepy town in a confluence of Hell on Earth.
---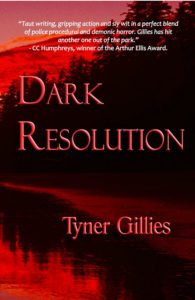 Find Dark Resolution at various online retailers through Dark Dragon Publishing
"…In Dark Resolution, Tyner Gillies has stepped up his game…I'd call this novel an absolute success. Tyner writers gritty (and disturbing) crime fiction and demon slaying like he's sharing a peek into his daily life"–Michael R Fletcher, author of the Manifest Delusions novels.
"Having enjoyed the first book in this paranormal mystery series, I was thrilled to dig into this further adventure. Gillies doesn't disappoint with a plot that twists and turns and plenty of RCMP throwing everything they have at near-invincible demons. Now I just have that long wait until the next book. Sigh."–Randy McCharles, award-winning Canadian author.
"With excitement and trepidation, I started reading Dark Resolution immediately after finishing its predecessor, The Watch. A new level of confident writing by Gillies pursues his lead character's development, enthralling with a complex storyline of conducting detective police work while facing an imminent threat. Looking forward to the next book already!"–Ania, Mission BC. Goodreads Review.
Two years have passed since Quinn Sullivan vanquished the Demon of Resolution Cove armed with only Autumn Donnelly's dagger. Now, new forces conspire to test the Guardian once more as he is sent to discover who, or what, was behind the suicide of Inspector Green's son. Little does he expect what awaits for him in the mountain town of Cranbrook.
Devoid of the Guardian's protection, Quinn's fellow RCMP constables are set in a trap they cannot escape as piles of human bones begin turning up. A serial killer is on the loose, searching for a little girl with abilities that will release others of its ilk to rain Hell down on earth.
Armed with only Autumn's dagger and her courage, Quinn must save those he loves lest they, too, become nothing but bones. To win, the Guardian must make a sacrifice. For him to succeed, one must fall.